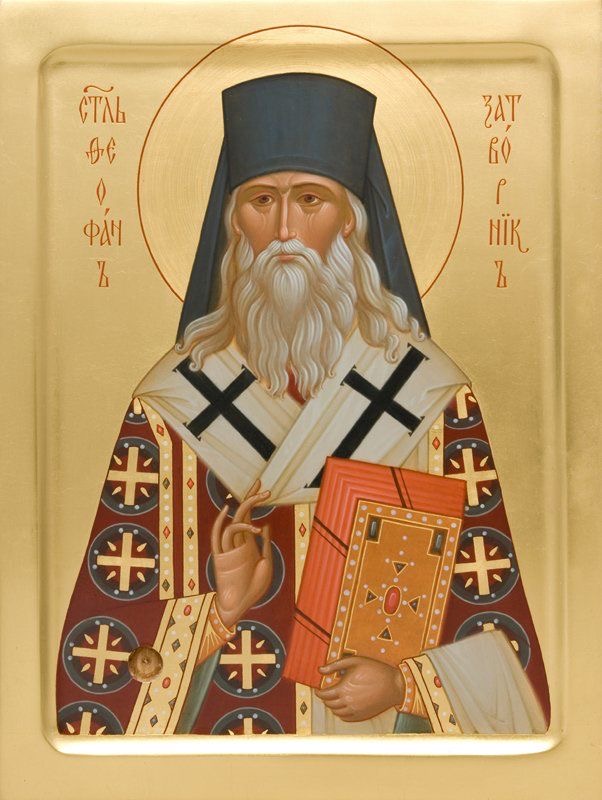 This evening we began Letter 64 where St. Theophan discusses with Anastasia solitude as well as how to avoid boredom and idleness. Theophan is very direct and one might even say stern about this subject. The feeling of loneliness or boredom should be out of place for us if we understand our true identity. We are in reality never alone. The Lord is always close by as well as our Guardian Angel. Therefore, each time we find ourselves alone we must renew as quickly as possible the conviction that the Lord and our Guardian Angel are with us and, in fact, we must rush to take advantage of these moments. Solitude, Theophan tells her, in this spirit is sweet and he prays that she will one day desire it as Paradise on earth. He goes on to tell her that she should avoid idleness at all costs. She should keep the mind focused when her tasks of the day are complete. There are many things that we can do to help us in this regard. Best of all, however, is reading spiritual books. This is the sphere of the most serious subject of all. In it everything is new and never becomes obsolete. The more you learn, the more you will discover subjects that are yet unfamiliar. 
Moving on to Letter 65, Theophan begins to share with Anastasia the writings of Saint Poemen that relate to what he has been explaining to her for a long time. Repentance and grieving over one's sins is the beginning of the divine path. "Repent, the kingdom of heaven is at hand." A person who repents and grieves over his sins will naturally shun evil and do good. Just as a woman who grieves over the loss of her husband and weeps bitterly can think of nothing else, so a soul that weeps over the loss brought by its sin can't think of anything else but restoring their relationship with God and weeping over their fall.
----
Text of chat during the group:
00:01:58 Sheila Applegate: Hi! I can't unmute.
00:04:07 Carol Nypaver: Also, my son'd birthday (on Padre Pio's Feast).
00:19:27 Mark Cummings: a rent, typically a small one, paid by a freeholder or copyholder in lieu of services which might be required of them.
00:20:06 Mark Cummings: Idle hands are the devil's workshop
00:41:30 Fr. Miron Kerul-Kmec Jr.: St. Basil - "Do not submit your souls to corrupt melodies that come to us through the ears. Many passions that enslave us have been caused to grow in our natures by this sort of music."
00:43:15 renwitter: I'm guessing this person he "knows" is himself :-D
01:21:01 renwitter: "For while all things were in quiet silence, and that night was in the midst of her swift course, 15Thine Almighty word leaped down from heaven out of thy royal throne." One of my favorite passages. The Father communicating His Word to us in the depth of silence.
01:21:43 Carol Nypaver: 😇
01:22:05 Cathy: Thank you. Beautiful
01:23:07 renwitter: We also love Miron Theophan!
01:23:37 Ann Grimak: Thank you so much,
01:23:52 Mark Cummings: Thank you!!!
01:24:00 Cathy: Good night.  Thank you Father!
01:24:20 Ashley Kaschl: Solitude is more of a trusting that we are deeply known by GOD and by seeking to know ourselves through a relationship with Christ, we become more aware of just how close God and our Guardian Angel is to us.
01:25:14 Carol Nypaver: Thank you, Ashley! Very insightful.